DYC Parking Use
Standard Operating Procedure
9 Apr 2022
General Requirements
Membership in the Dahlgren Yacht Club (DYC) automatically binds the member to agree to the following Standard Operating Procedures (SOP). General requirements pertaining to this and and all other DYC SOP are covered in the Master SOP.
Parking Requirements
Parking at DYC is limited. When possible please minimize the number of vehicles you bring to the facility. Refer to the parking map for details.
The following rules apply to parking at the facility:
All vehicles and trailers shall be parked in a manner not to impede other traffic or the shared use of the facilities.
Vehicle parking has been designated short term or long term with permanent signs.

Short term parking is for vehicles without trailers, no longer than 24 hours.
Long term parking is for vehicles with trailers and vehicles left longer than 24 hours.

Boat dry slips are not authorized for vehicle parking at any time.
Member must file a voyage/sail-plan with the dock master for vehicles left longer than 7 days.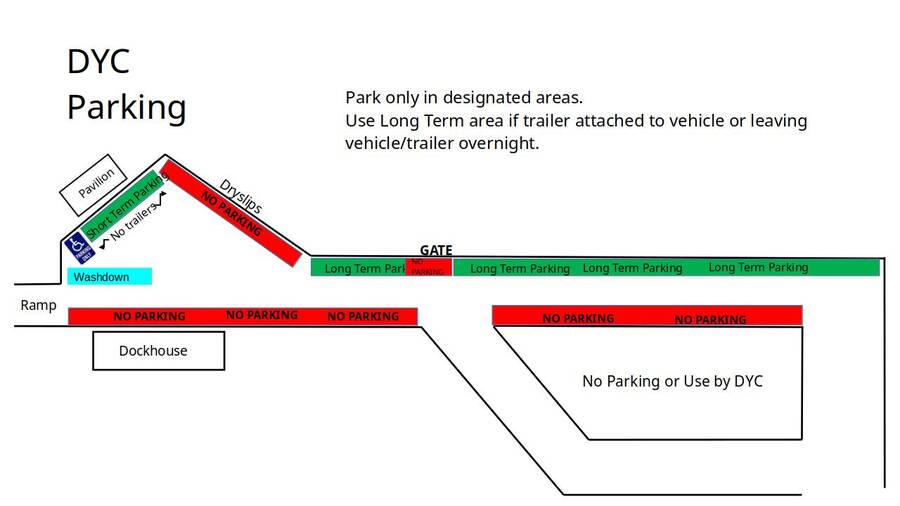 Prior Instructions
This procedure supersedes all previous DYC instructions concerning operation of the this portion of the DYC facilities.